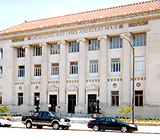 The Columbus courthouse, built in 1934, is a 3-story building located at the corner of 12th Street and Second Avenue. 
The building houses the U.S. District Court, U.S. Marshal, U.S. Probation, and U.S. Post Office.  
The Columbus division serves: Chattahoochee, Clay, Harris, Marion, Muscogee, Quitman, Randolph, Stewart, Talbot, and Taylor counties.
The building is open from 8:30am until 5:00pm Monday - Friday.
Street Address:
120 12th Street
Columbus, GA 31902
Mailing Address:
U.S. Post Office & Court House
PO Box 124
Columbus, GA 31902
706-649-7816 (voice)
478-738-6327 (fax)