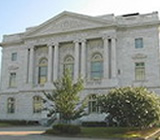 The William A Bootle Federal Building & US Courthouse, a historic structure built in 1905, is located at the corner of Mulberry and Third Streets and is the headquarters for the Middle District of Georgia. It was named in 2000 for William Augustus Bootle, an American attorney and United States district judge noted for helping oversee desegregation in the Southern United States.
Along with the U.S. District Court, the building also houses the U.S. Marshals Service and the offices of an Eleventh Circuit Court of Appeals Judge.
The Macon division serves: Baldwin, Bibb, Bleckley, Butts, Crawford, Dooly, Hancock, Houston, Jasper, Jones, Lamar, Macon, Monroe, Peach, Pulaski, Putnam, Twiggs, Upson, Washington, Wilcox, and Wilkinson counties.
Office hours are from 8:30am until 5:00pm Monday - Friday.
Street Address:
475 Mulberry Street
Macon, GA 31201
Mailing Address:
U.S. District Court
PO Box 128
Macon, GA 31202
478-752-3497 (voice)
478-738-6327 (fax)