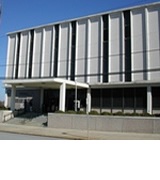 The Valdosta courthouse is a 1960's era 2-story building located between Ashley and Patterson Streets just east of Rogers Street.
The building houses the U.S. District Court, U.S. Bankruptcy Court, U.S. Probation, U.S. Post Office, Internal Revenue Service, U.S. Congressman Sanford Bishop, and recruitment offices for several branches of the military.
The Valdosta division serves: Berrien, Brooks, Clinch, Colquitt, Cook, Echols, Irwin, Lanier, Lowndes, Thomas, and Tift counties.
Office hours are 8:30am-5:00pm, Monday - Friday.
Street Address:
401 North Patterson Street
Valdosta, GA 31601
Mailing Address:
U.S. District Court 
401 North Patterson Street
Valdosta, GA 31601
229-242-3616 (voice)
478-738-6327 (fax)